Each of the 5 daily prayers are led by the imaam of the mosque.
Weekday prayers and Saturday prayers are usually lead by Mufti Zaid.
Friday prayers (Jumma) is normally conducted by Mufti Zaid and the sermon is given in both English and Urdu so that all members of the community are able to understand and act upon the teachings.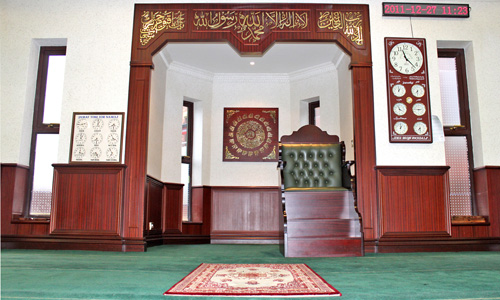 In addition to the regular prayers various discourses and classes take place, such as:
Friday evening – English talk
Daily after Fajr prayers – Hadith of the day in Urdu and English
Mon to Thursday – Daily after Zuhr Prayers Urdu

During the month of Ramadhan, after Taraweeh prayers, Mufti Saheb conducts Tafseer of the Quran that was recited in Salaah.
Eid ul Fitr and Eid ul Adha Salaah are performed at the Eidgaah in Springfield Park, providing the weather conditions are appropriate. Where the weather conditions do not permit us to perform Eid Salaah in the park, Eid Salaah will be performed in the Masjid.